S76-MC
S7 Series
S76-MC
The SiFive S76-MC Standard Core is a high-performance 64-bit quad-core embedded processor which is fully-compliant with the RISC-V ISA.
The S76-MC is ideal for latency-sensitive applications in domains such as storage and networking that require high-throughput, 64-bit memory addressability, and have real-time constraints (e.g. Enterprise Storage, In-storage Compute, 5G Base Stations, SLAM processing, etc.)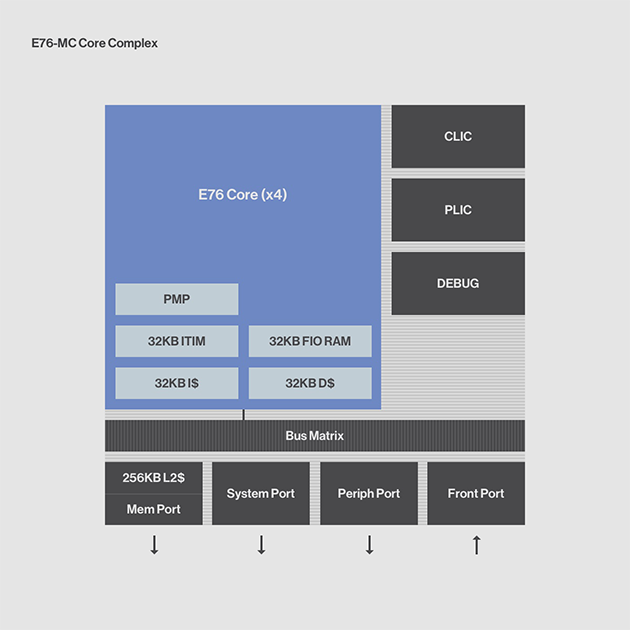 S76-MC的主要特征:
Fully compliant with the RISC-V ISA specification

RV64GC S76 Core (4x)

Machine and User Mode Support

In-order, 8-stage pipeline

Advanced Memory Subsystem

32KB Instruction Cache
32KB Instruction Tightly Integrated Memory (ITIM)
32KB Data Cache
32KB Data Local Store (DLS)

Efficient and flexible interrupts

Physical Memory Protection (PMP)

High-performance TileLink Interface

Benchmark Scores

4.27/2.5 DMIPS/MHz (Best Effort/Legal)
5.1 CoreMarks/MHz
S7
Series Overview
S7系列
The S7 Series offers a 64-bit embedded processor targeting high-performance, real-time applications that require 64-bit memory addressability. The S7 core has a superscalar 8-stage in-order pipeline.
主要特征
Up to 8 coherent high-performance RISC-V real-time processors
Supports an in-cluster coherent combination of application processors with real-time processors (S7 and U7)
L2 cache available for high-performance applications (optional)
New microarchitecture features for enhanced security and real-time determinism
64-bit addressability for embedded applications
应用领域
Enterprise Storage, Object Storage
In-storage Compute, Edge Devices
FAST data analytics, Line-rate network processing
Baseband Processing, 5G Modems
Telematics Units