E20
E2 Series
E20
The SiFive E20 Standard Core is an extremely efficient implementation of the E2 Series configured for very low area and power. The E20 brings the power of the RISC-V software ecosystem to efficiently address traditional 8-bit and 32-bit microcontroller applications such as IoT, Analog Mixed Signal, and Programmable Finite State Machines.
Further optimize the E2 Core for the smallest area using SiFive Core Designer.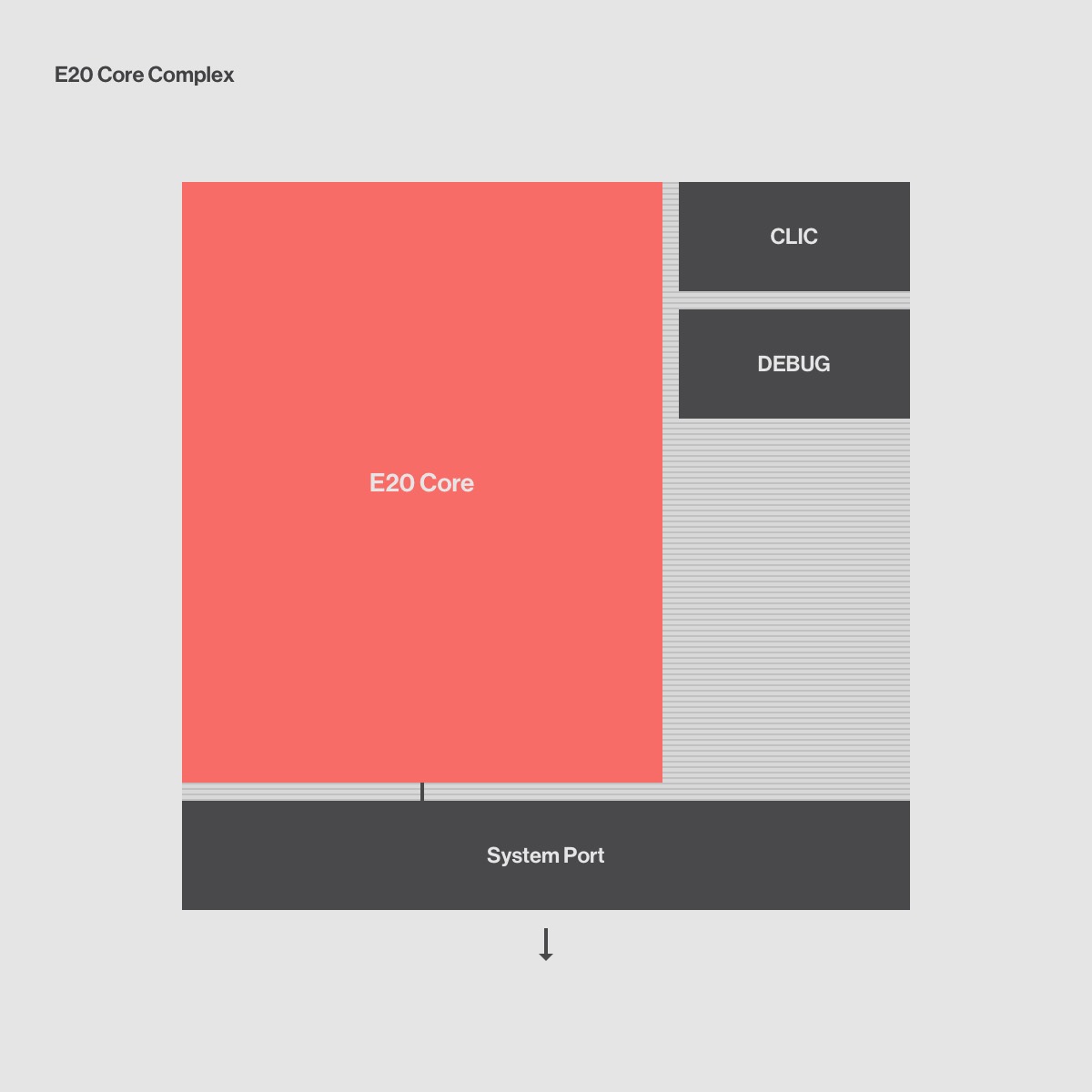 E20的主要特征:
RISC-V ISA - RV32IMC

Machine Mode only

2-stage pipeline

System Port for external memory accesses

Core Local Interrupt Controller (CLIC) with 32 interrupts

Advanced debug with 4 hardware breakpoints/watchpoints

1.22/1.84 DMIPS/MHz (Legal/Best Effort)

2.51 CoreMark/MHz
E2
Series Overview
E2系列
The E2 Series is highly-optimized for area and power while still offering class-leading performance. Targeted for microcontroller and embedded devices, the E2 Core can be configured to be as small as 13.5k gates with an efficient 2‑stage pipeline or configured for higher performance with a 3‑stage pipeline, hardware floating-point, instruction cache, and more.
Using SiFive Core Designer the E2 Series can be fully customized to meet your specific requirements.
主要特征
Configurable core performance
Single precision Floating Point Unit
Custom memory map and ports
Optional Tightly Integrated Memory (TIM)
RV32E support with the smallest core configuration as small as 13.5k gates and is .005mm2 in 28nm
应用领域
MEMS Sensors
Power managment
Digital motor control
Low-power MCUs
Health wearable monitors
Environmental monitors