November 9 to 11, the 2022 World Internet Conference was held in Wuzhen, Zhejiang Province, with the theme of "Jointly Building a Cyberworld and a Digital Future - Jointly Building a Community of Shared Destiny in Cyberspace". The Summit is the first annual meeting of the International Organization of the World Internet Congress since its establishment. Nearly 2000 delegates from more than 120 countries and regions participated in the Summit online or offline. StarFive Technology was invited to participate in the "Innovation driven Network Power" ecological exhibition organized by China Internet Investment Fund.
In the exhibition area, StarFive Technology displayed two new blockbuster products launched this year: the new generation of RISC-V multimedia processor -- JH7110 and the world's first mass production RISC-V board computer with integrated 3D GPU -- VisionFive 2.
The JH7110 adopts a mature 28nm process, carries four 64 bit high-performance RISC-V cores, operates at 1.5GHz, and has a 2MB L2 cache. JH7110 integrates 3D GPU, H.264/H 265 video codec IP and ISP IP are powerful multimedia processing platforms. JH7110 meets the complete test standards of commercial and industrial specifications through strict reliability testing, and can be widely used in consumer electronics and industrial control fields.
VisionFive 2 is equipped with JH7110 SoC, which has strong computing power and graphics processing capacity; Equipped with a complete audio and video interface: DVP, MIPI, HDMI, audio stereo interface; Two network interfaces; 40 pin full-featured GPIO, compatible with general peripheral modules of various mainstream development boards; At the same time, it provides expansion interfaces for PCIE, USB and SDIO peripherals. VisionFive 2 supports the mainstream Linux operating system and OpenHarmony operating system. Compared with the previous RISC-V development boards, VisionFive 2 has the highest performance and the most comprehensive functions, which truly fills the gap of the RISC-V high-performance development board. VisionFive 2 has been popular all over the world since its launch, and has won more than 2000 supporters in a one month crowdfunding campaign. At present, VisionFive 2 global pre-sale is in progress https://forum.rvspace.org/t/how-to-purchase-visionfive-2/665.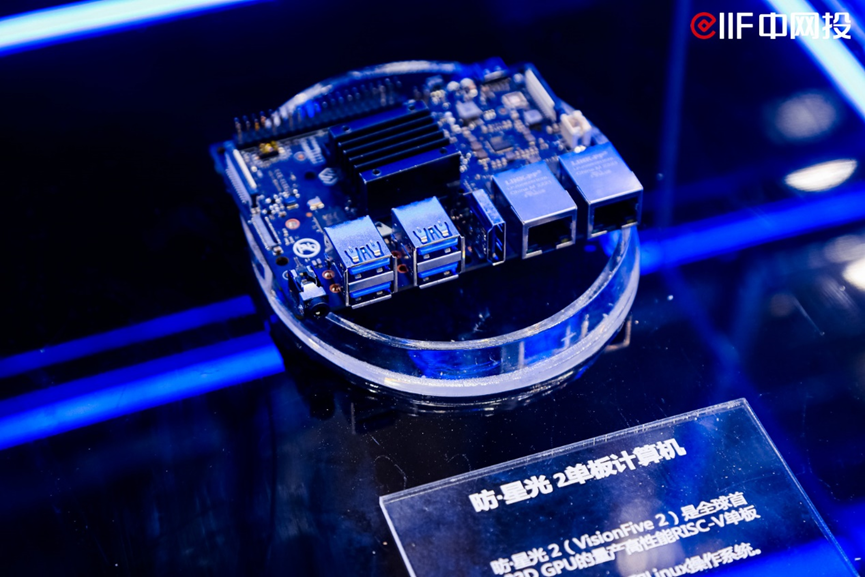 As an open instruction set architecture with huge ecological potential, RISC-V provides an innovative driving force for the development of China's chip industry. As the ecological leader of RISC-V software and hardware in China, StarFive Technology will continue to launch high-performance RISC-V IP, SoC, development board and other series of products. By leading the development of RISC-V technology, it will drive industrial innovation and provide a RISC-V base for jointly creating a digital future.