Recently, after strict review and acceptance by authoritative certification bodies, StarFive Technology passed the GB/T19001-2016 idt ISO 9001:2015 quality management system certification, covering the R&D, design and sales of integrated circuits.
Comprehensive standardized quality management is always the top priority of enterprise development, and is regarded as the soul of enterprise survival and development. The quality management system requires enterprises to strictly control all processes that affect the quality of products and services, including design and development, material procurement, process planning, production and manufacturing, inspection and testing, packaging, storage, sales and transportation.
This certification indicates that StarFive Technology has scientific and stable quality management capability and can make the product and service quality meet the requirements of standardized operation and management.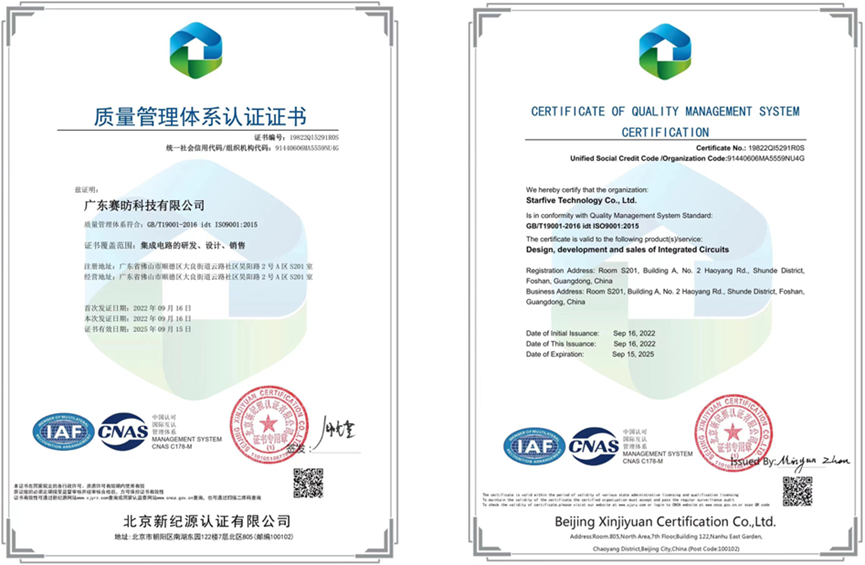 The certification process was strictly reviewed. The expert judges fully grasped the actual situation of the integrated circuit project by listening to reports, comprehensively consulting data, observing the scene, and asking questions collectively, fully recognized the compliance and effectiveness of the management system and the certification standards, and the ability to meet the requirements of laws, regulations, and contracts.
In the future, StarFive Technology will strictly follow the international ISO9001 management system certification standard, continue to promote the scientific and standardized operation of the quality system, consolidate the work system, work process and post responsibility system, implement the quality standard in every work and every link, and provide customers with first-class products and services.
About IOS9001
ISO 9001 is transformed from the world's first quality management system standard BS 5750 (written by BSI). ISO 9001 is the most mature quality framework in the world so far. More than 750000 organizations in 161 countries/regions are using this framework. ISO 9001 sets standards not only for the quality management system, but also for the overall management system. It helps all kinds of organizations to achieve success through the improvement of customer satisfaction, employee enthusiasm and continuous improvement.