Recently, StarFive Technology and Youyeetoo launched the official metal case for VisionFive 2 RISC-V Single Board Computer. This metal case is specially designed and manufactured by Shenzhen Youyeetoo Technology for VisionFive 2, aiming to provide a better development experience for developers.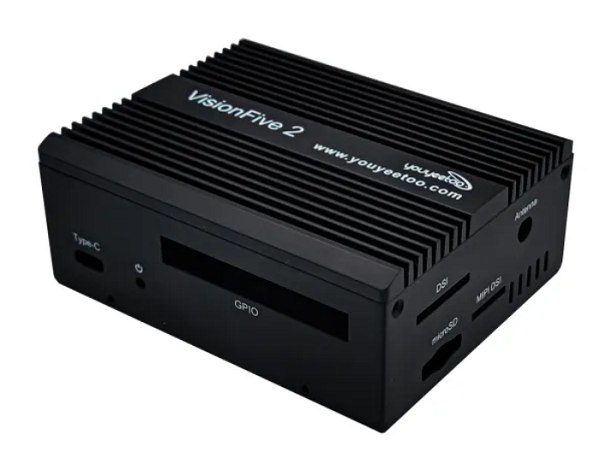 Features
It is an integrated metal case suitable for VisionFive 2 SBC with the following features.
Perfect Fit: This metal motherboard case is designed to fit the VisionFive 2 SBC perfectly, with no extra gaps, ensuring that your device is protected from shaking and other forms of damage.
Efficient Heat Dissipation: The upper cover of the case adopts CNC cutting technology with heat dissipation designs. Using the case for heat dissipation, with a wider and more efficient heat dissipation surface. This industrial-grade heat dissipation enables the long-term stable operation of VisionFive 2.
Easy to Assemble: The case comes with hangers and can be wall mounted, making it easier to embed devices and integrate with devices such as screens.
Rugged Durability: Made of hard metal material, this case offers strong protection against physical damage and hard impacts, ensuring that your VisionFive 2 micro desktop computer lasts longer.
Meet High Performance and Durability Requirements: The case is specifically designed for requirements of high performance and durability, which enjoys high praise among engineers, mechanics, and hardware enthusiasts who demand high-performance and durable products.
Mechanical Parameters
The mechanical parameters of the case are as followings.
Size

Value

Unit

Case length

101

mm

Case width

79

Case hight

37

Hanger length

68

Hanger width

11.5

Width of the entire case after installing 2 hangers

102
Purchase Notes
To purchase the case, please visit the official purchase page of VisionFive 2: https://rvspace.org/en/application/Accessories and find the metal case to buy.