Recently, Pine64, a world famous open source hardware manufacturer, launched a new RISC-V SBC, Star64, which is equipped with the new generation of mass production multimedia processor JH7110 SoC of StarFive Technology.
The JH7110 adopts a mature TSMC 28nm process and is equipped with a 64 bit high-performance quad core RISC-V CPU. JH7110 operates at 1.5GHz with a 2MB L2 cache. JH7110 integrates 3DGPU, H.264/H 265 video codec IP and ISP IP are powerful multimedia processing platforms.
JH7110 meets the complete test standards of commercial and industrial specifications through strict reliability testing, and can be widely used in consumer electronics and industrial control fields. The launch of Star64 is another successful example of JH7110's application in the field of open source hardware.
Star64 will be equipped with 4GB or 8GB RAM, one HDMI 2.0 video output interface, two gigabit Ethernet ports, one WiFi6 and Bluetooth 5.2 module, one USB 3.0 port, one PCIe slot and one GPIO connector for expansion. Star64 will be applied in various scenarios. For example, connecting SATA adapters with PCIe slots can build multi drawer NAS.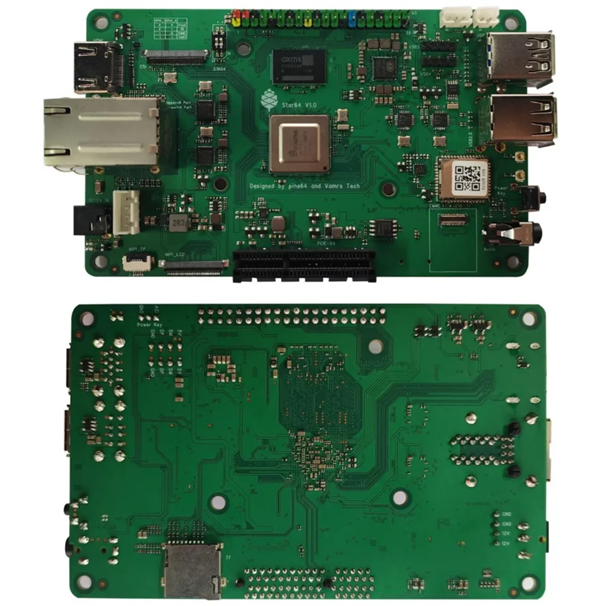 More information about Star64 will be continuously updated at https://forum.rvspace.org/c/pine64-star64/22.
Recently, the blockbuster RISC-V board computer, VisionFive 2, will be delivered soon. The launch of Star64 provides the industry with more choices of high-performance development boards, further promoting the ecological evolution of RISC-V.